There were a lot of victories this week in the Drama Mama household. These victories made me think about my job as a mother. It made me question myself.
I know that sounds weird, it's honest.
I had to think REALLY hard to give myself some credit for these accomplishments, because really, they aren't about me  anyway.
They are all on Jellybean.
And they are fantastic.
I'm still amazed.
We got her report card. She has one A (in math, no less!) and the rest were Bs. Amazing, especially since she was getting F's in some areas over the course of the semesters.
She handed me a folded piece of paper as she went to bed Friday night.
I opened it and…..
TADA!!!
It was an HONOR ROLL Achievement award.
TADA!!!!
IN YOUR FACE, ADHD!!
Huge accomplishment for her. HUGE.
And yesterday, she got baptized. She didn't even tell me that she had given her life to Christ until we discussed baptism.
I am definitely a proud mom over here.
But then, I started thinking. What did I really do as a mother to get us these victories? I mean outside of taking her to church and making her go to school.
And like I mentioned earlier, I had to think hard. I just do what I do, I don't really give it much thought. Ultimately these are not my victories, these are HERS.
But I am her mother. I stand proud of her once more, knowing that even if it's not mine, I had a hand in it somewhere.
I must be doing something right, eh?
And I'll take it. I'll take that pride in her accomplishments and let it envelope me and remind me that yes, I am enough mom, even if I don't always feel that way.
Especially since I doubt myself too much.
Today, I can tell you, I am enough.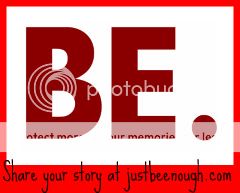 What gives you that "be enough" feeling?